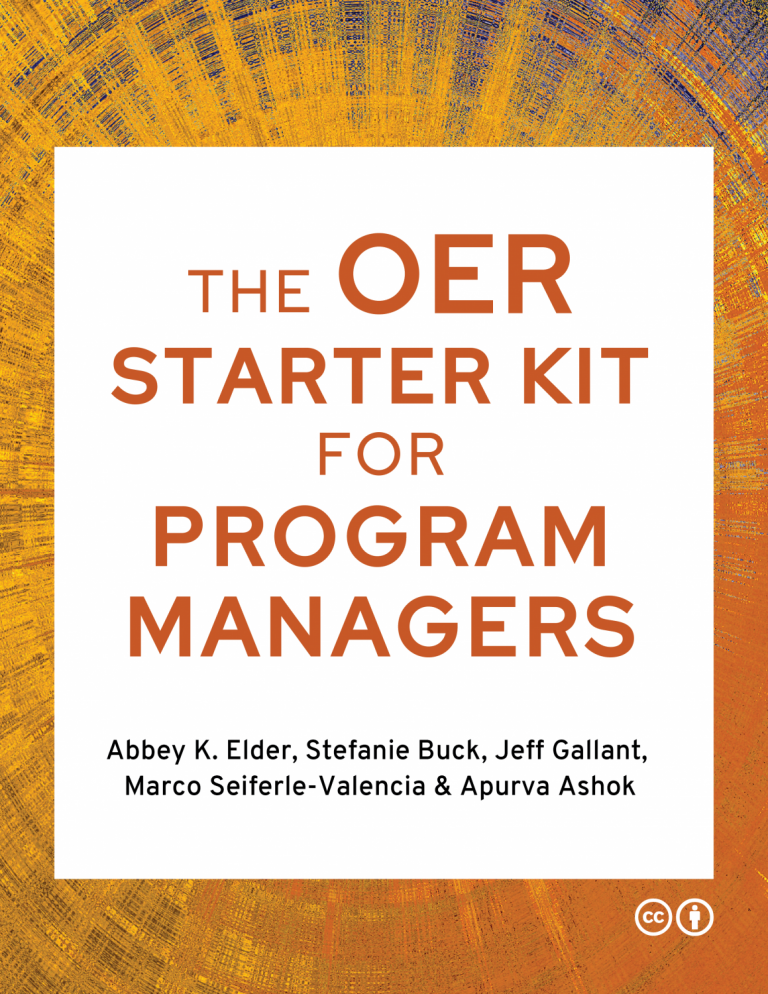 We are pleased to announce the publication of a new resource for faculty and staff interested in starting or leading OER efforts at their institutions: The OER Starter Kit for Program Managers!
Following The OER Starter Kit, which supports those new to Open Education who want to learn more about OER, The OER Starter Kit for Program Managers goes a step beyond and brings attention to the work involved in building and managing an OER program, from soliciting team members to collecting and reporting data on your program's outcomes.
The book contains 7 parts, each with 1-2 accompanying case studies from the field:
A Quick Guide to Open Education
Building an OER Program
Program Management
Training & Professional Development
Supporting OER Adoption
Supporting Open Textbook Creation
Collecting and Reporting Data
This OER has been published thanks to a huge collaborative effort supported by over 100 contributors! The lead authors and editors on the volume are Abbey K. Elder, Stefanie Buck, Jeff Gallant, Marco Seiferle-Valencia, and Apurva Ashok. Case study authors include Cheryl (Cuillier) Casey, Regina Gong, Dawn Lowe-Wincentsen, Quill West, Billy Meinke-Lau, James Glapa-Grossklag, Jojo Karlin, Krystyna Michael, Robin Miller, and Amy Hofer.
86 peer reviewers and 3 copyeditors added to these efforts, and you can find the full list of those involved in this project in our book's Back Matter.
If you're interested in learning more about this book, we invite you to attend our launch party on 10 May 2022, from 12-1:00 pm EST (find your time zone using the Time Zone Converter).
At the launch party, the project leads and select case study authors will talk about their contributions to the book. We'd love to see you there!
Register to attend the launch event via Zoom.
You can use the discussion boards here on our Rebus Community to share your thoughts, suggest future updates, and ask for support from other program managers in the community.
Join the community
Follow The OER Starter Kit for Program Managers on Rebus! Share your enthusiasm about the book's release on Twitter using the hashtag: #OERStarterKitPM