This project is part of the February 2021 Textbook Success Program cohort.
---
Transforming Humanities Texts is a new project designed by Dr. Mary Isbell to bring open pedagogy into conversation with scholarly editing to support courses in disciplines including philosophy, literature, history, music, religion, and cultural studies. Her goal is to encourage rigorous (also, authentic and enjoyable) reading experiences for students in humanities courses. Dr. Isbell is doing this by building documentary editions that grow and change to incorporate the work of the students who use them. A robust set of faculty resources—assignment templates, technical guidance, and workshops—will encourage faculty to develop their own editions or adapt editions created by others. We chat with Dr. Isbell to learn more about this project and ways that other educators can collaborate.
Can you describe what you mean by documentary editions and why these are your goal?
Dr. Isbell: Our focus on documentary editions means that the person initiating an edition selects a specific physical copy of their chosen text to represent digitally. This is done to remind students that the texts they are reading have existed in many different editions since the date of first publication. By setting aside the emphasis on an authoritative critical edition (which usually comes complete with annotations representing the pinnacle of scholarly thinking at the moment it was published), these editions put students in a position to explore these texts alongside their instructors to ask questions and decide afresh how they might be relevant to their lives.
What inspired this project?
Dr. Isbell: At a 2013 meeting of the team building the Melville Electronic Library, Dr. Wyn Kelley gave a presentation outlining the pedagogical value of thinking of students as editors. It appealed to me then as a way to get students engaged as producers (as opposed to consumers) of the texts I was assigning, and it has proven a very beneficial strategy. I've been designing assignments positioning students as editors ever since. These assignments prompted much more engaged research and writing from students, but I struggled to find a process to take what one class created and present it to a different class. The solution, I've realized, is to build a community of faculty and students who share my enthusiasm for open pedagogy. We will transform our editions together during bi-annual edition-building gatherings. A rough sketch of the iterative process we will follow is described below: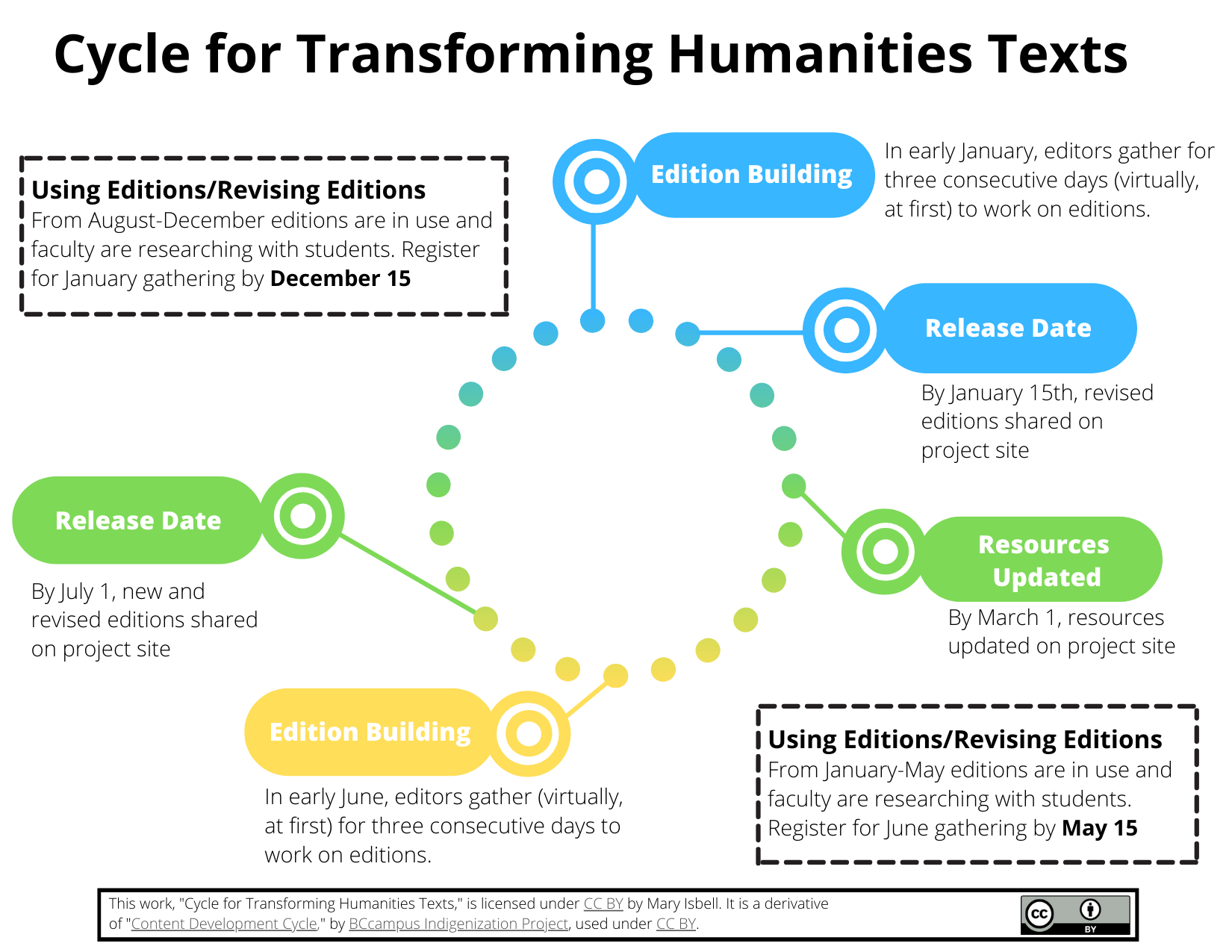 This project is ultimately focused on building the resources that will support the work faculty undertake during these gatherings and with their students each semester.
How can folks get involved?
Dr. Isbell: I'm inviting faculty members and students to join one or more of the teams described at our project forum. Once I've got a sense of interest, I'll share details about our first edition-building event, which will take place this June! If you have any questions, please don't hesitate to email me.
---
Transforming Humanities Texts will be one of the first OERs associated with the Open Pedagogy Project, a faculty development initiative funded by the Davis Educational Foundation. Dr. Mary Isbell and colleague Dr. Jenna Sheffield started this initiative to support colleagues in the development of OER and open pedagogy practices at the University of New Haven.