I am excited to announce the release of the first book in a new series of open textbooks for Introduction to Philosophy courses: Introduction to Philosophy of Mind, edited by Heather Salazar (Western New England University).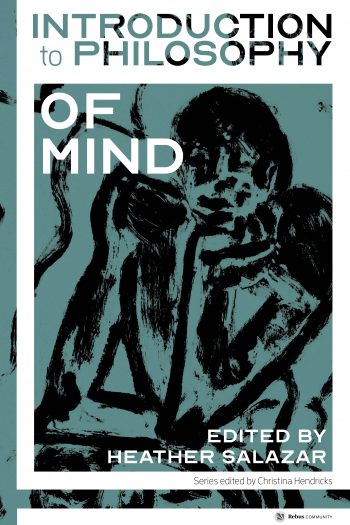 Introduction to Philosophy of Mind surveys the central themes in philosophy of mind and places them in a historical and contemporary context intended to engage first-time readers in the field. It focuses on debates about the status and character of the mind and its seemingly subjective nature in an apparently more objective world.
Written by experts and emerging researchers in their subject areas, each chapter brings clarity to complex material and involves the reader through a wealth of examples. Many chapters include applications of the concepts to film and literature that will stimulate readers to firmly grasp the significance of the philosophy of mind.
Subjects covered are how the mind fits into the material world and how to analyze its properties. In that vein, substance dualism, materialism, behaviorism, functionalism, and property dualism are all explored. In addition, it includes insightful contributions on how to explain seemingly subjective feelings, the mystery of consciousness, conceptual understanding of the world outside of the mind, and free will. The book is designed to be used alone or alongside readings from historical and contemporary original sources.
There are nine books planned for the Introduction to Philosophy open textbook series at this point, with books for Ethics, Logic, Philosophy of Religion, and Aesthetics being released in the near future (there are also books in the works on Metaphysics, Epistemology, Philosophy of Science, and Social and Political Philosophy). Each book has its own editor, and I am the overall series editor.
This book series began when I noted that while there were a good number of open educational resources available for Logic courses, there were few (at the time) for general Introduction to Philosophy survey courses for undergraduates (or secondary students). The books are designed to be used for courses that introduce philosophical topics to students with little to no background in the field. They focus on foundational concepts and debates, both historical and contemporary, in their respective areas.

I and the early set of book editors had originally planned a single textbook, but one book turned into a series of volumes as we realized that with quite a number of people willing to help out we had enough material being written for several smaller books. Each book has a Creative Commons Attribution license that allows it to be reused free of charge, or downloaded and revised/remixed to better fit one's own context. For example, instructors are able to combine a few chapters from multiple books, adding in their own work or other openly-licensed or public domain content if they wish, to create their own customized textbook.
Please see the project discussion pages on the Rebus Community for further information, including opportunities to volunteer to help out with the other books. That is also a great place to ask questions or make comments on the books or the project as a whole. If you plan to adopt part or all of any of the books in the series, please let us know on our adoption form!