Just under a year ago, we announced the initial release of The Rebus Guide to Publishing Open Textbooks (So Far). The book represents over two years of collective knowledge about making OER, gathered from the many minds and hands of project leads, contributors, and others within the Rebus Community.
We are now pleased to share version 2.0 of the Guide, which includes updated and additional content, as well as short summary sections that help make each chapter even more accessible. These quick-to-absorb pages present the central aspects of each step of making OER: the underlying principles, who's involved, and key tactics to keep in mind. (Here's an example, from the Project Scoping phase.) They serve well as a top-level checklist before, during, and after diving into the actual work.
In addition, a full complement of short videos is available on YouTube, featuring Rebus's Zoe Wake Hyde. Each video addresses one section of the Guide, while also offering perspectives on the 'whys' and 'hows' of making open textbooks. Complete transcripts of each video are also available from within the YouTube description.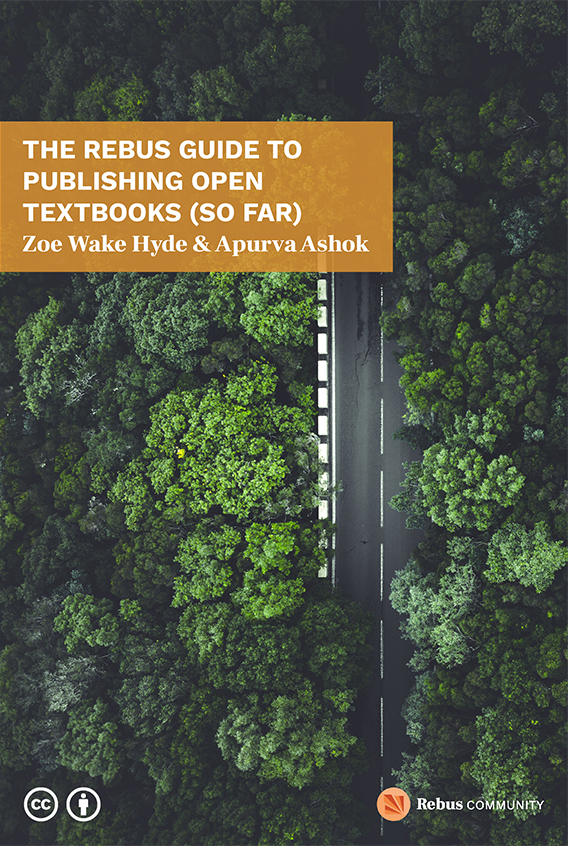 And for those of you who participated in our poll about the cover design, you'll be interested to see the final version. We received lots of very useful feedback, pointing us in many different directions. Ultimately, we settled a cover that we things works well, and which incorporates your ideas and comments.
On behalf of all of us at Rebus Community, thank you for your help in making this book a reality. And of course, keep your insights coming for version 3.0!