Update: This program has been discontinued. We are very proud of the projects were be able to support and inspired by the people we met. Thank you to Steel Wagstaff, Apurva Ashok, and Amy Song for all their help.
Thank you to everyone who joined the first calls of Open & Online by Rebus and Pressbooks. This post will be updated regularly with the current topic to be discussed during our calls.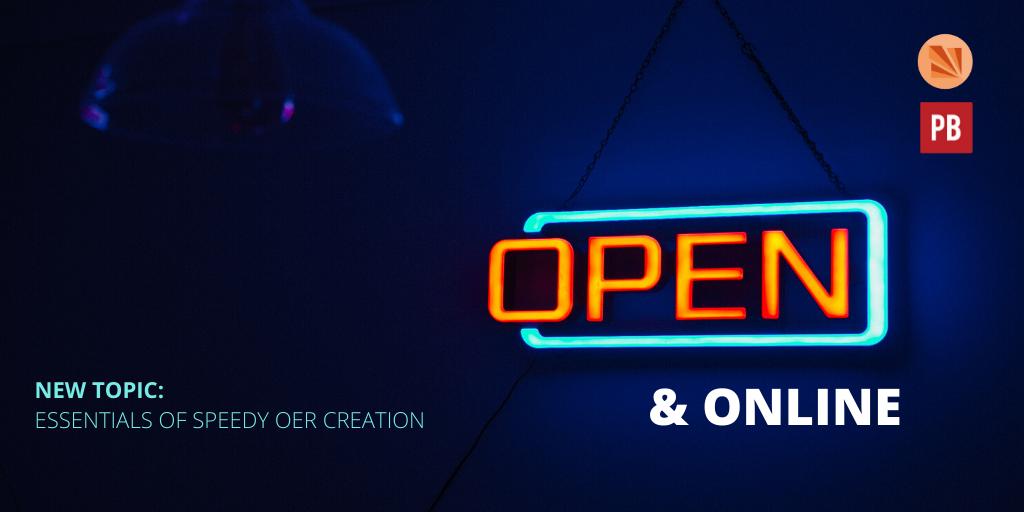 Next topic: Essentials of Speedy OER Creation
Date/time: April 29 @ 1pm ET/ 5pm UTC or May 1 @ 9:30am ET/ 1:30pm UTC
Full program details:
Rebus is offering free weekly discussions on a theme related to open textbooks as courseware and online collaboration.
Pressbooks is offering a free book on a shared instance of PressbooksEDU to participants of Open & Online.
If you have an open textbook you want to adapt into an online course, if you have a course you need to move online and are interested in open access, come learn with us. Rebus will offer two opportunities per week for educators to gather, discuss, and share knowledge. Sessions are 30 minutes and consist of 10 minutes of instruction and 20 minutes of discussion. Participants are not expected to come to every discussion, but are always welcome.
Who is this for?
Faculty and librarians with a specific open textbook they would like to make more interactive or engaging, or with a specific course they want to move online with the help of open educational resources. Participants should have a specific project that they want to work on in mind, whether it's an existing text or course. New to open education, an old hat—everyone is welcome to come ask questions and share knowledge.
Please note: If the number of participants becomes too much for our resources, we will cap the number. Thanks for understanding.
Next steps:
Fill out this form to sign up.
Questions? Email contact(at)rebus(dot)community